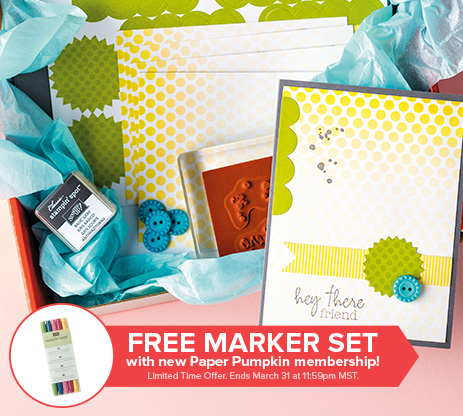 I don't know about you, but I am starting to come down with a bad case of "cabin fever!" It is so cold and snowy outside, and it seems like there is nothing to look forward to now that the holidays are over.
Paper Pumpkin to the rescue!
Paper Pumpkin is a monthly craft kit that is delivered right to your mailbox. It will have everything (except adhesive) that you need to complete the project in about 30 minutes. It is a surprise each month, and the anticipation of what will arrive is half the fun!
And, from now until February 10, 2014,
new
subscribers to Paper Pumpkin will receive a pack of the 2012-2014 In Color Markers (a $14.95 value) for
FREE
! These markers will be shipped with your Welcome Kit.
It's so easy to get started. Simply sign up for the program by visiting
https://mypaperpumpkin.com?demoid=77526
and click Get it. Every month a new, surprise project kit arrives at your doorstep. Just think of the anticipation of creating a fun project to pin, showoff, and share with your friends and family every month!
Of course, you'll want to know more. So here's the nitty gritty:
Each month we send you a unique, surprise kit with a project-cards, journals, décor, and more! (We've even color-coordinated, measured, and cut everything for you!)
Each kit includes stamps, ink, paper, and accessories-everything but adhesive.
Each kit gives you a 30-minute creativity escape.
We will ship your Paper Pumpkin on or around the 15th of the month.
You need to sign up for a kit by the 10th of the month to get that month's kit. If you sign up on the 11th of the month, your first kit will come the next month. (Let's say you sign up on May 10, we'll send your kit around May 15. If you sign up on May 11, we'll send your first kit around the June 15.)
A Paper Pumpkin membership is $19.95 per month (and shipping is included!) There's no commitment, you can cancel your monthly Paper Pumpkin at anytime. You can also skip a month if you want.
Not sure? Then, our Try-It kit is perfect! Just visit https://mypaperpumpkin.com?demoid=77526 and click on the Try It button for more information.
Let me know if you have any questions! Have a great day, and STAY WARM!
https://mypaperpumpkin.com?demoid=77526